A Creative Approach — Project 2 Developing your marks — Stage 3 — A Sample
For this exercise I chose one of my ink drawings which is mostly line based. I hand stitched in running stitch and stem stitch — in different directions and with a mixture of threads, some shiny, some matte, some thick, some sewing machine rayon so very thin. A couple of the diagonal sections turned out quite textural and layered. They have multiple threads and layers so are quite raised on the surface of the fabric. These probably would suit the following exercises. The stitches are all line based stitches though, so it shows how they can be used to create both line and texture.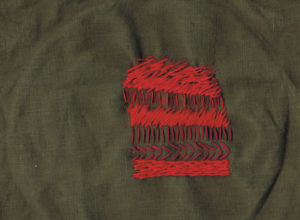 Here's the ink drawing which was used for inspiration. The top two diagonal / horizontal sections are a bit different — I was enjoying seeing the different light on the threads poke through as I stitched, so this is a bit of interpretation rather than accurate portrayal of the original picture.
The range of threads used in my sampler:
scansilk – colour # 1804 100% rayon
scansilk – colour # 1805 100% rayon
DMC #8 colour 321 coton perle
DMC #25 colour 915 mouline special
DMC #4 2346 coton retours mat
On the Surface – the second one on the card – Couture Red (CRT113)
The fabric is olive green linen from my fabric stash (this was my partner's Mum's fabric).