I can't get the sewing machine to do freestyle machine embroidery. it seems to sew in the wrong direction – ie sew up the excess thread from the threaded needle and then the thread comes out of the needle. 🙁 I've tried holding the threads but still no luck. I've tried with a foot on (I think it's actually a clear buttonhole foot), the foot off, tightening & loosening the screw on the bobbin holder to adjust bobbin tension and the feed dogs down. when I put the feed dogs up again it sews normally (well, as normal as it usually does – see the stitching in this first photo, with white thread plus red bobbin thread). I tried pulling the fabric tauter on the hoop and trying a thicker fabric. I haven't tried using fusible interfacing on the fabric yet though, so maybe the fabric is too thin? basically it doesn't seem to pick up the bobbin thread at all either.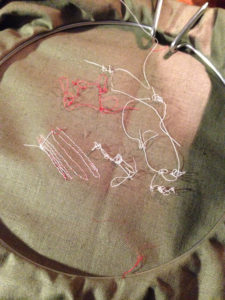 feed dogs down & feed dogs up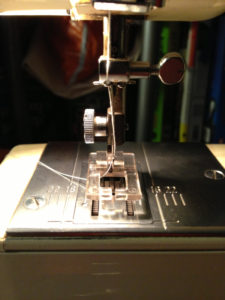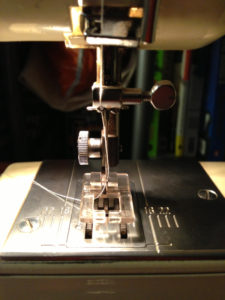 I tried watching some videos and following their instructions but I'm still not having any luck. I've had some problems with it when doing straight stitching too – so possibly it's the machine's problem – it skips stitches irregularly when stitching normally (I quite like this in some cases though – it has a nice glitch). but maybe this means it's not suitable for freestyle machine stitching?
am tempted to try find a bernina 1008 sewing machine – the books I read by Sue Stone mentions she uses one and I like her work and stitches. in technique & stitch vocabulary she says she has two! one for normal stitching and one for machine embroidery. I also like the darning stitch she uses over the top of her layered stitches, she makes it look like hand woven stitches