A Creative Approach — Project 1 Marking marks — Stage 3 — Exercise 2 — Using marks to create surface textures
This exercise involved recreating the textured surfaces of objects.
This first page has a drawing trying to replicate the texture of patio tiles, and another showing the branches and remaining leaves of a tree that had lost its leaves during winter — as viewed from the patio whilst looking across the garden. I painted the watercolour wash over the ink drawing in the evening, and thought I was using a brownish grey colour but when I checked in the light of day the next day, I'd actually used a purple colour. Oops. So the colours are not 100% accurate but hopefully the feel of the texture shows through: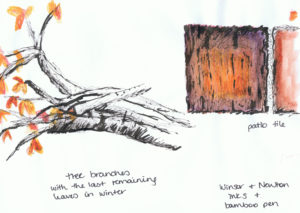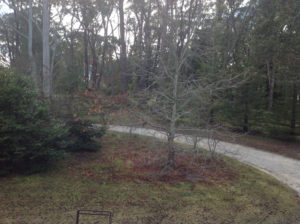 The second group of drawings are of the leaves on a pencil pine. At first I thought the segments of the leaves were like little nodules, so I drew the first one (top right) with drops of ink, but when I looked closer I noticed that there were small crosses along the leaves segmenting the sections. I thought this would suit cross-stitch, so tried to draw it in inks and then paint over the top. the problem I found is I couldn't mix the correct lighter shade of green to draw the crosses. On the weekend I only had my inks and bamboo pens as I was away for the weekend. When I came home I painted the crosses on, though my technique isn't that good — and probably the paintbrush I used wasn't fine enough, so the crosses are a bit rough: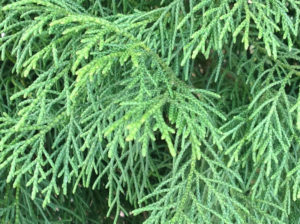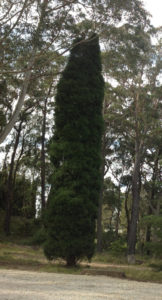 The last one is trying to replicate the textures on a root of an Agapanthus plant. These plants are a pest in the native garden so J pulls them out whenever possible. He was showing me the shoots coming out of the root. I thought it had a nice mixture of textures — smooth surfaces, hard and soft parts, fibrous, stringy parts and soft leaves. Also I liked the concentric ridges around the root — it reminded me of how I actually draw a cylindrical surface on paper.
Even though the Agapanthus root is quite ugly, I quite like how this textural drawing turned out.