A Creative Approach — Project 1 Marking marks — Stage 2 — Exercise 4
This exercise involved making marks with many other types of materials.
Block printing — a wine bottle box + softdrink bottle cap with ink stamp pad: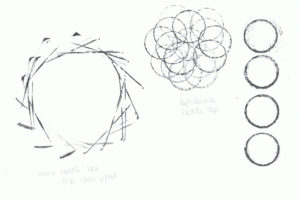 Layers of coloured water based oil pastel crayons with scratchings using a bamboo pen:
I like this one – the colours peeking through seem quite electric – almost neon. I think it's because of the surrounding black colour making them 'pop'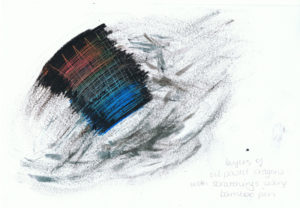 Watercolours and acrylics with vinegar:
I think I used too much vinegar. there's a few nice artefacts from the vinegar but overall I don't think these worked out how I was expecting them to.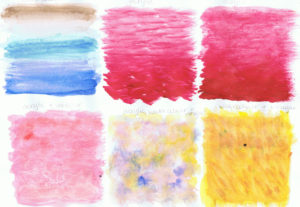 Brusho paint powders mixed with vinegar instead of water, brusho powder dropped onto the page, ink pen lines using a bamboo pen:
there's a few splotches where the colour was lifted by the vinegar. I don't mind the ink lines over the paint, but I think I need to practice the vinegar effects more.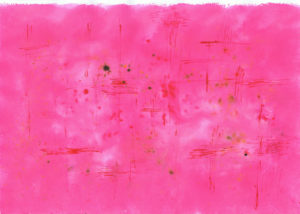 Crayons (Text zoom windup crayons) with a watercolour paint wash over the top.
I liked the top one, so I made another full size picture of it – see the next picture: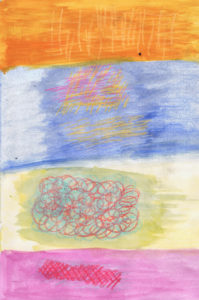 Combing: black acrylic paint with scratchings using a dressmaking pin:
I like this one – the black acrylic reminds me of black satin. I like how shiny it looks.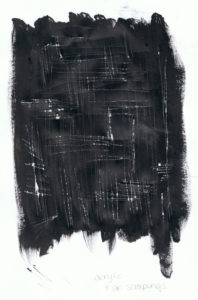 I retried some of the exercise 3 exercises – ie placing salt on the wet paint, placing plastic wrap over the paint, as well as some of the suggested exercises for exercise 4:
Inks with plastic wrap – this one didn't really work. I think the ink dried too quickly:
I preferred the pre-plastic for this one. I should have kept it aside and tried another — though I did take a "before" and "after" photo.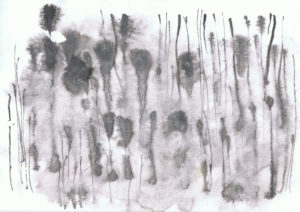 Acrylic paint + scratchings using a seed pod: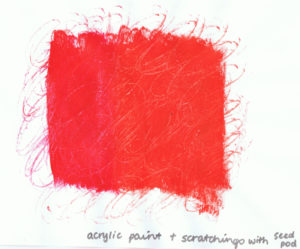 Acrylic + scratchings using a sewing pin: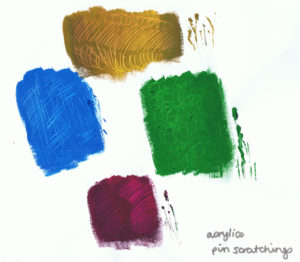 Cutout stencil – simple shapes:

Stencil – stippling and sponging paint onto the stencil: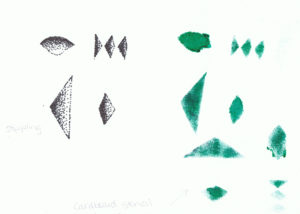 Frottage / rubbings:
I made quite a few rubbings — with different results. Some didn't work out as well as I would have liked. Plus I realized that my apartment is full of smooth surfaces! I had to do some at J's Mum's place where there were many textures to be found.