Today I went to the "Landlock" exhibition at the Casula Powerhouse.
Landlock explores a parallel relationship between Afghanistan and Australia: one is geographically defined by surrounding land mass; the other, completely surrounded by sea. The exhibition aims to highlight that such differences have produced a shared dialogue about the political, social and physical environment occurring between the two regions.
Artists include: Khadim Ali, Rusdi Anwar, Sanaz Fotouhi, Andrew Garton, Nasim Nasr and Amin Palangi
photos I took at the exhibition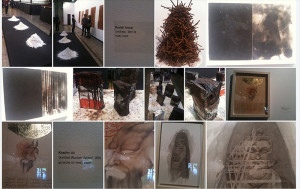 I loved the work with rust, and the patterns printed onto the cardboard boxes, with the stories of women encoded in these.
the Shaun Gladwell exhibition of his war paintings was held at the gallery concurrently – this was also interesting to see.